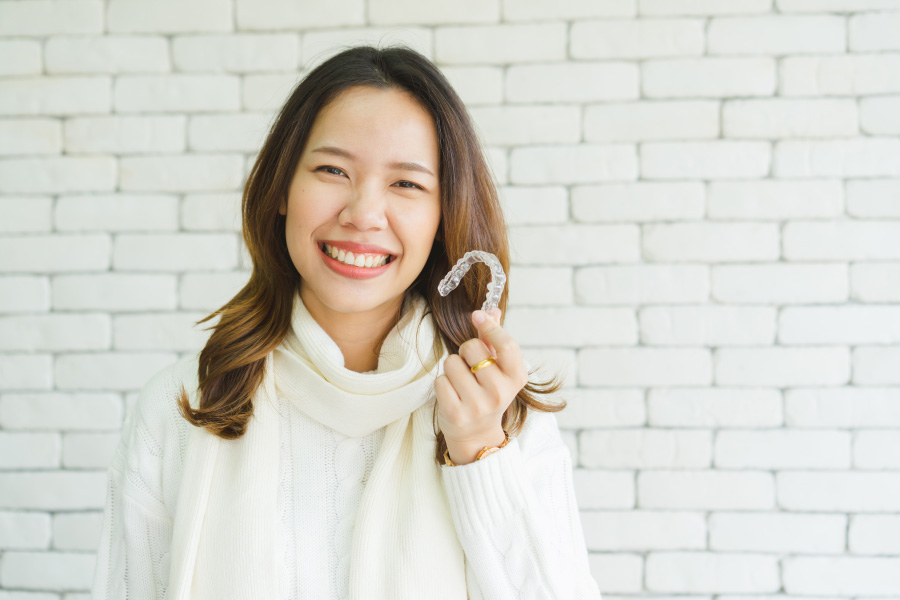 Do you want to straighten your teeth? It's never too late to get a healthier, straighter smile! Invisalign® is a subtle way to get a straighter smile without most people even noticing you have anything on your teeth. Here's what you need to know about Invisalign and why it may be a great teeth straightening method for your needs!
What Is Invisalign?
If you haven't straightened your teeth yet, is it because you don't want to spend time in metal braces? We get it! Luckily, with Invisalign clear aligner therapy, you don't have to have noticeable metal brackets and wires disrupting your appearance and irritating your cheeks. Invisalign is a nearly invisible teeth straightening method that utilizes clear aligner trays. These translucent trays can feel similar to a mouthguard, retainer, or whitening trays. Their smooth, clear material means you can continue to smile with confidence while you straighten your teeth.
How Invisalign Works
With Invisalign technology, your dental team will map out an entire treatment plan when you begin your orthodontic journey. You will wear a set of trays for about two weeks at a time. After each two-week period is up, you will swap out your old trays for new ones that will continue to move your teeth even more. With Invisalign, the aligners need to be worn at least 20-22 hours a day. You should only take them out to eat, drink anything other than water, and clean your teeth and trays.
Invisalign Candidacy
Responsible patients with mild to moderate misalignment are great candidates for Invisalign. The best thing to do is to schedule an in-person consultation with your certified Invisalign dentist to see if you're a good match! Your dentist will examine your smile, discuss your goals, and go over estimated treatment costs.
Schedule Your Consultation!
If you're currently looking for an Invisalign dentist in Denver, CO, our team would love to help! At Vero Dental, we proudly offer Invisalign and other cosmetic dental treatments. Please contact us today to schedule an Invisalign consultation at our office!