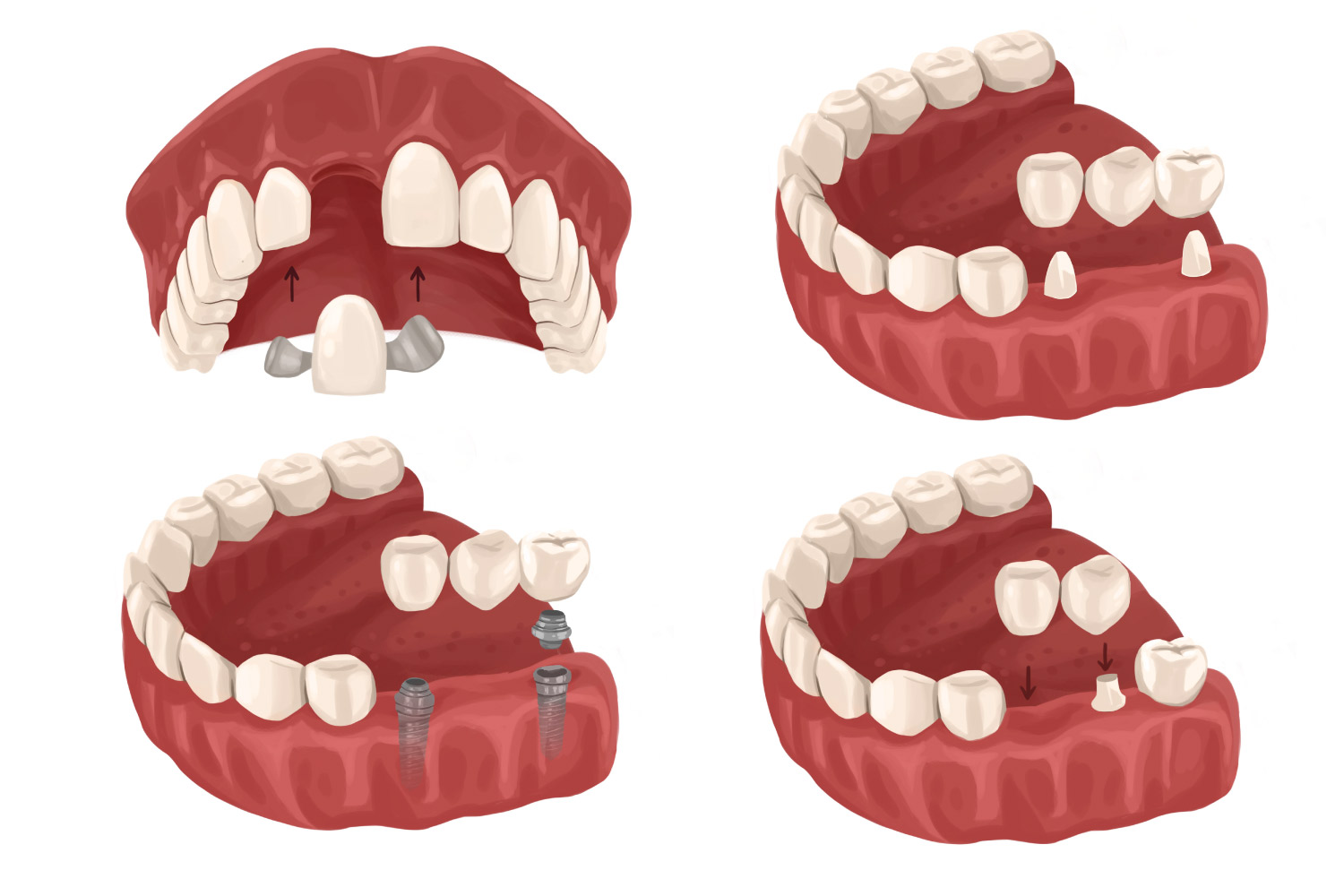 Severely damaged teeth and lost teeth can occur due to dental disease or trauma. Gaps in your smile can negatively affect your life, by making it more difficult to eat, smile, and socialize with confidence. Your remaining teeth can also shift into these gaps. This can result in facial sagging and crooked teeth that are harder to clean and thus more prone to decay.
To restore your smile, there are a handful of tooth replacement options. For many patients, a dental bridge is the right choice and will feel similar to having natural teeth.
What Are Dental Bridges?
A traditional dental bridge is made from two crowns that sandwich an artificial tooth between them. The crowns fit over your natural teeth on either side of a gap left by a missing tooth, which is now filled in with a replacement tooth. Bridges can also be supported by dental implants if you're missing several teeth in a row. A cantilever dental bridge has only one adjacent supporting tooth.
Before we place the bridge, we'll shape the teeth that the crowns (which are called abutment teeth) will cover. We'll take impressions of these teeth to create custom crowns that fit perfectly over them. When your permanent bridge is finished, we'll attach it to your smile and make sure it feels comfortable and looks amazing.
What Do Dental Bridges Feel Like?
Fixed dental bridges aren't removable. They should feel similarly to natural teeth, since crowns are designed to look as close to real teeth as possible. When you first get your bridge, you might feel mild discomfort and tenderness as your mouth adjusts. This should be temporary. Let us know if it gets worse and/or persists for more than a few days.
How to Care for a Dental Bridge
While the crowns in a dental bridge cannot decay like natural teeth, your gums and the natural teeth beneath the crowns are still susceptible to disease. Brush twice a day for two minutes each time and floss every day. An electric toothbrush and water flosser are great tools if you have a bridge. Additionally, consume a balanced diet, drink plenty of water, avoid tobacco, and visit Vero Dental for routine professional cleanings.
Restore Your Smile at Vero Dental in Denver, CO
Missing teeth can significantly affect many areas of your life. A dental bridge is a comfortable and budget-friendly option to restore your smile and self-esteem. For more information, please reach out to Vero Dental to schedule a consultation with our expert team!
Images from Authority Dental under CC 2.0