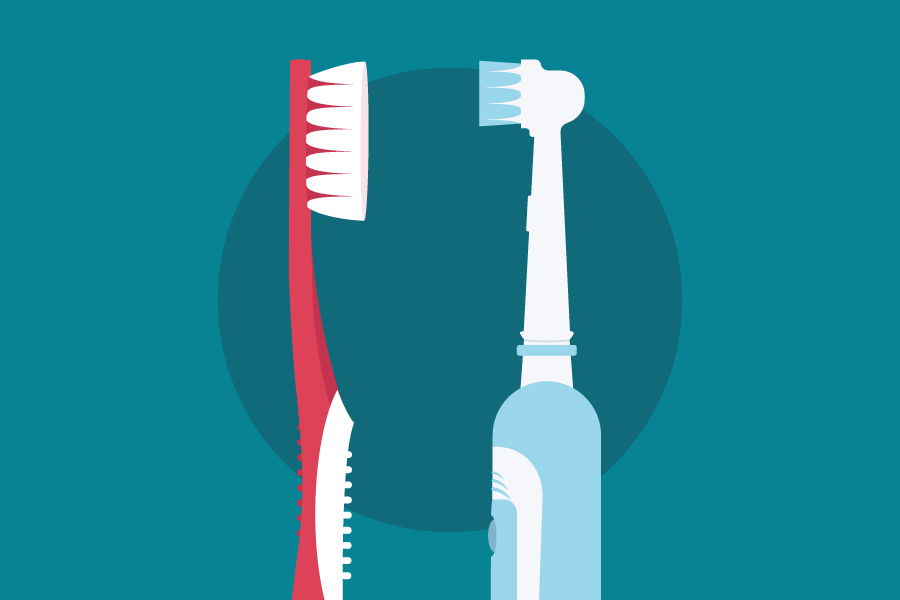 Electric toothbrushes are wildly popular among patients and many dentists highly recommend them! An electric toothbrush is a chargeable toothbrush that comes with various capabilities to make brushing your teeth more efficient, more enjoyable, and easier. With a manual toothbrush, you must be mindful to brush your teeth using small, gentle circles with just the right amount of pressure. With most electric toothbrushes, the heavy lifting is taken care of for you with its fast spinning bristles, pressure sensor, and two-minute timer.
Different electric toothbrushes come with different settings; some might not have a built-in timer, while others have whitening and polishing functions or Bluetooth connectivity. Some replacement brush heads cater to those with braces or sensitive gums.
Overall, the powerful but gentle mechanics of an electric toothbrush head helps break up plaque and remove food particles more efficiently and accurately than how most people use a manual toothbrush.
Should I Get an Electric Toothbrush?
Electric toothbrushes are a great option for distractible children above 3 years old and teenagers, busy college students, tired new parents, older adults with grip issues, braces wearers, patients currently with gum disease, and those who want to prevent dental disease. Nearly everyone could benefit from an electric toothbrush!
Because they reduce much of the manual work that goes into brushing your teeth, electric toothbrushes can make your oral hygiene feel less like drudgery and increase your motivation to actually brush your teeth. This will improve your oral health and help you prevent decay and gum disease more so than if you brush halfheartedly or too fast with a manual toothbrush.
Electric toothbrushes are more expensive up-front than a manual toothbrush. Replacement brush heads for your electric brush will also run a bit more expensive than buying a new manual toothbrush. However, you can get an excellent electric toothbrush from several major retailers for $50 or less. We recommend buying a reputable brand that has a track record of reliability and buying authentic replacement brush heads.
Affordable Preventive Dental Care
When paired with twice-yearly dental appointments, using an electric toothbrush can help keep your smile strong and healthy! At Vero Dental, we emphasize the value of preventive care and can help you decide which type of toothbrush is right for your oral health needs. Additionally, we offer affordable financing so our patients can get the care they deserve even if they're on a tight budget. Contact us today to schedule an appointment at our office in Denver, CO!