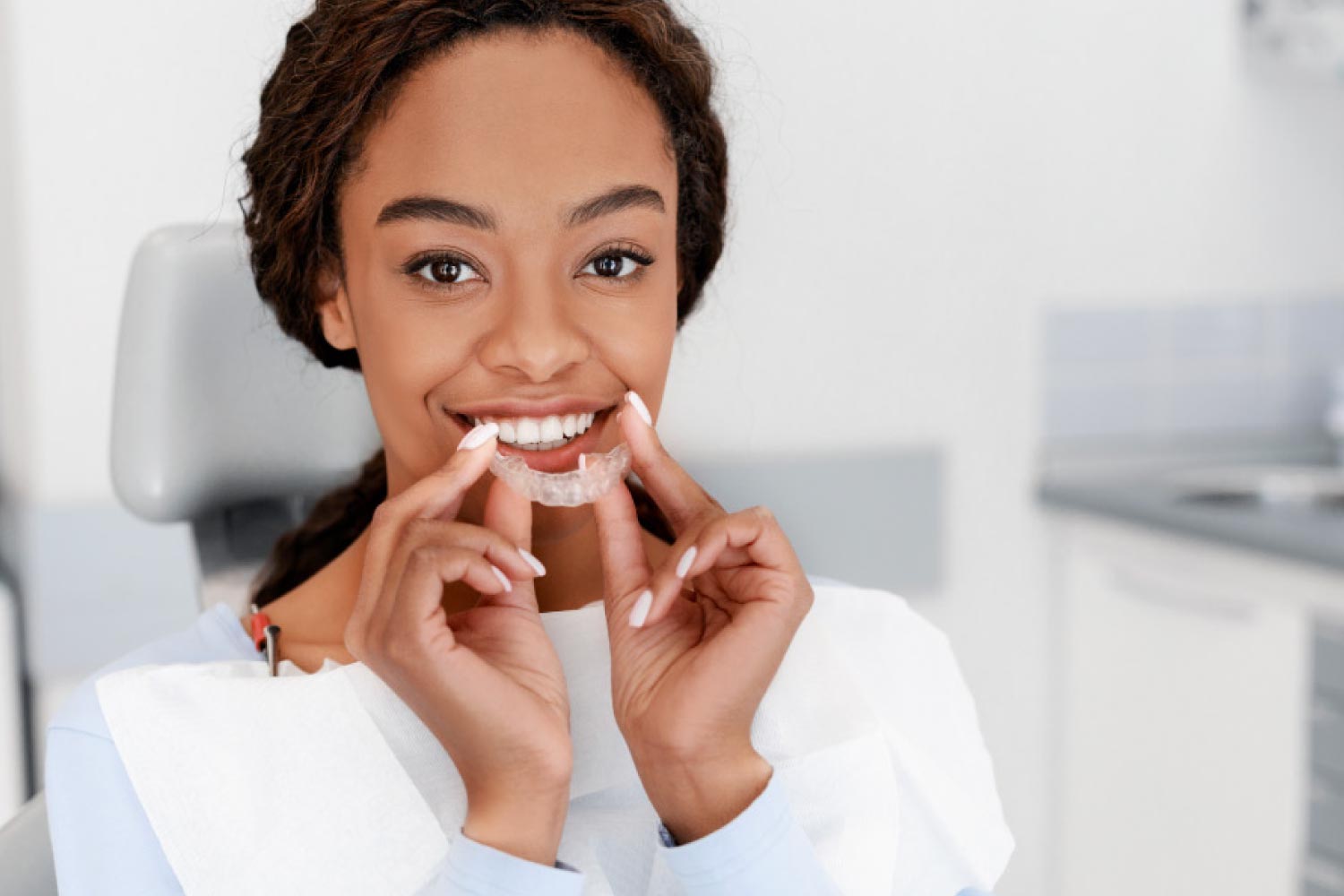 In the past, you would need metal braces if you wanted a straight smile. Today, there are clear aligner treatments that work for many cases! Invisalign® is one of the most popular. How does it work? Are you a good candidate?
How Invisalign works
Invisalign aligners fit over your teeth a bit like mouthguards. Unlike metal braces, they're removable, so you don't have food restrictions. Using X-rays, we get a complete picture of your teeth and develop a plan to transform your smile. A lab creates custom aligners that use slight pressure to move your teeth gradually into place. Every 6-8 weeks, we'll check on your smile's progress and give you the next set of aligners. For best results, we recommend you wear your aligners at least 20 to 22 hours a day.
Who Is a Candidate for Invisalign?
Invisalign can fix mild to moderate underbites, overbites, crowding, and other problems. If your case is more complicated, metal braces are often still the best choice. However, don't assume your teeth are too crooked for Invisalign before getting a consultation. Clear aligners are extremely versatile! Good candidates for Invisalign also have good oral health. If you have untreated decay or gum disease, we'll need to address those before considering Invisalign.
How Do I Take Care of My Aligners?
If you're thinking about Invisalign, it's important to know they need special care. When you eat or drink something other than water, you should remove and rinse your aligners in lukewarm water. Ideally, you should clean your teeth before putting your aligners back in. Whenever you brush your teeth in the morning and evening, wash your aligners, too. Use mild dish soap or a denture cleaner. Toothpaste is too abrasive and can scratch the plastic. Rinse well before returning to your mouth.
Invisalign at Vero Dental in Denver
If you've always wanted a straighter smile, ask us about clear aligner therapy! At your consultation, Dr. Giuseffi and Dr. Johnson will let you know if you're a good candidate and discuss costs, which are similar to traditional braces. We offer a wide variety of payment options to make Invisalign affordable for our patients. Please contact our office with any questions or to set up an appointment.